What is Performance Marketing? Why it is important in 2022!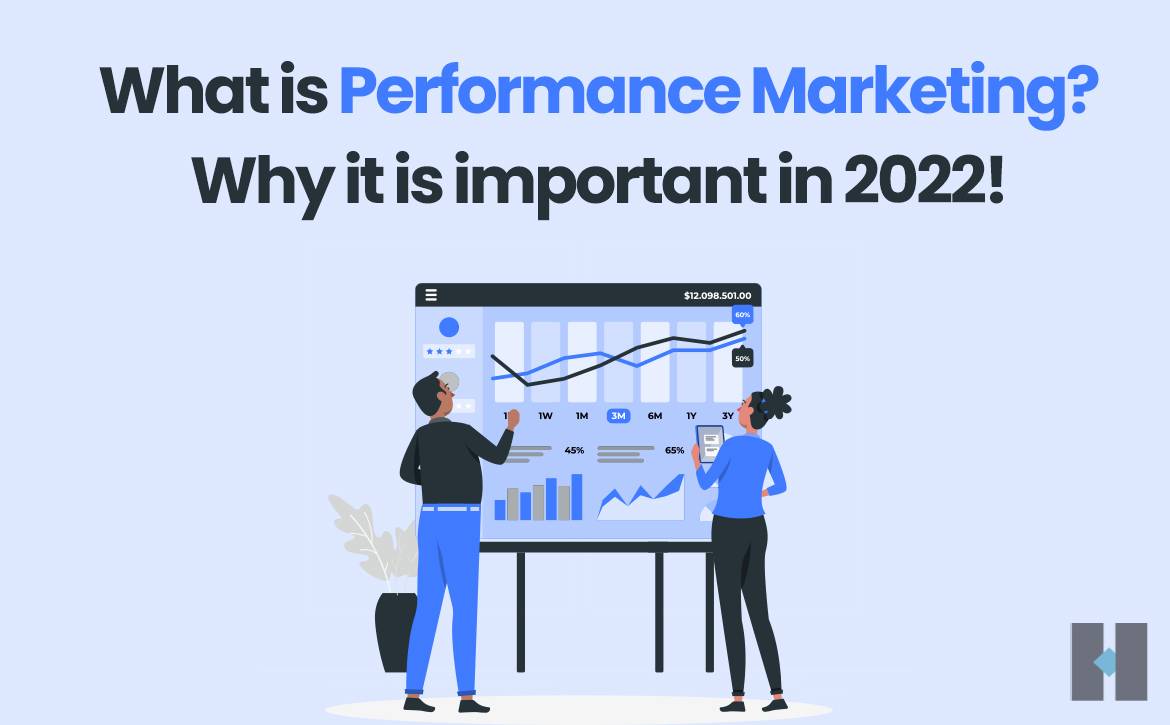 Which name strikes your mind when we mention chocolates? Is it Cadbury or some local name? Now, what about make-up products? It might be L'Oreal or Lakmé. That's because these companies have worked their way to successfully build the reputation of their brands. That is the power of brand awareness!
In today's world, creating a sustainable brand image is a hell of a task. However, the entire team's dedication towards the proper marketing strategy and the best use of resources can together craft a successful campaign generating leads and conversions. Surely, you might be wondering which is the best marketing strategy for your brand. Considering the recent shift in customer behaviour, we would undoubtedly vote for performance marketing.
This article will walk you through the basics of performance marketing, statistics to prove its importance, benefits, and much more.
What is Performance Marketing?
Let's understand the meaning of performance marketing, it is a form of marketing based on performance. Most likely, you must have seen ads while scrolling through Instagram or watching videos. These are performance marketing campaigns. But a successful performance can vary as per the demand of brands, and marketers only pay when the desired goal is achieved. For some, it might be leads and clicks, while for others, it might be bookings or views.
Statistics to manifest the value of Performance Marketing
Performance marketing has witnessed significant growth with the rising popularity of affiliate and SaaS platforms. In addition, the change in consumer behaviour post-pandemic era has also contributed to the pacing up of performance marketing.
Data-driven performance marketing can now be a powerful marketing strategy for creating brand awareness and generating leads. Yourstory mentions that by understanding the behaviour of the target audience and their preferences, companies have witnessed a gain of 30% in market efficiency. Moreover, the companies also reported a 10% top-line growth while keeping the marketing budget constant. The statistics suggest a higher return on investment than other marketing activities for branding, keeping the budget constant.
The growing interest of companies in performance marketing to drive results was estimated to be around $6.82 billion in 2020.
Is performance marketing changing?
Since the time people have interacted on digital platforms, the way they think, behave and act have evolved. The use of mobile phones has increased rapidly, with more than 5 million people owning a mobile of their own. Brands and companies have used this opportunity for years to reach their target audiences.
In addition, with machine learning and artificial intelligence, digital marketing strategies have changed drastically. To cope with the emerging techniques, marketers have to change their mindset regarding performance marketing. However, the shift of more and more users to digital platforms has increased the demand for performance marketing brand owners.
Why do brands need performance marketing?
Many brands and marketers have a blurry idea about the difference between brand marketing and performance marketing. However, a good performance marketing strategy without the support of branding principles is less likely to give long term results.
But, when backboned by a brand's principles, performance marketing not only drives results but also helps in building brand image. Moreover, with the large amount of data in hand, brands have found it perfect to understand their consumers' behaviours and optimise their marketing tactics.
Below we have mentioned top channels that you can use to drive your performance marketing campaigns.
Top Performance Marketing Channels
Social Media Marketing
Social media is a bonanza for brands targeting large-scale audiences. Every social media platform has a different way of attracting consumers. A proper social media performance marketing strategy can help digital marketers do wonders for their clients. The positive effects of social media are becoming evident as it's helping start-ups and small businesses to become players.
Programmatic Display Advertising
Another awesome marketing strategy that you can count on for enhancing your performance is programmatic display advertisements. In simple terms, just like the billboards hung on the roadside, display ads are the digital visually soothing and striking banners on online platforms like websites, youtube, etc.
Search Engine Marketing (SEM)
To attain benefits of SEO and rank organically on top of search engines, extensive keyword research, creating quality content and long hours of consistency is required. To cut the chase, SEM increases traffic using paid and unpaid practices with minimal hassle. For the paid search marketing, advertisers mainly fouses over the pays for clicks while on unpaid advertising such as search engine optimization relies on search engine's own algorithm. Companies measure SEM based on performance whereas others opt for partnerning and paying out commissions based on campaign performance.