Positive effects of social media on Business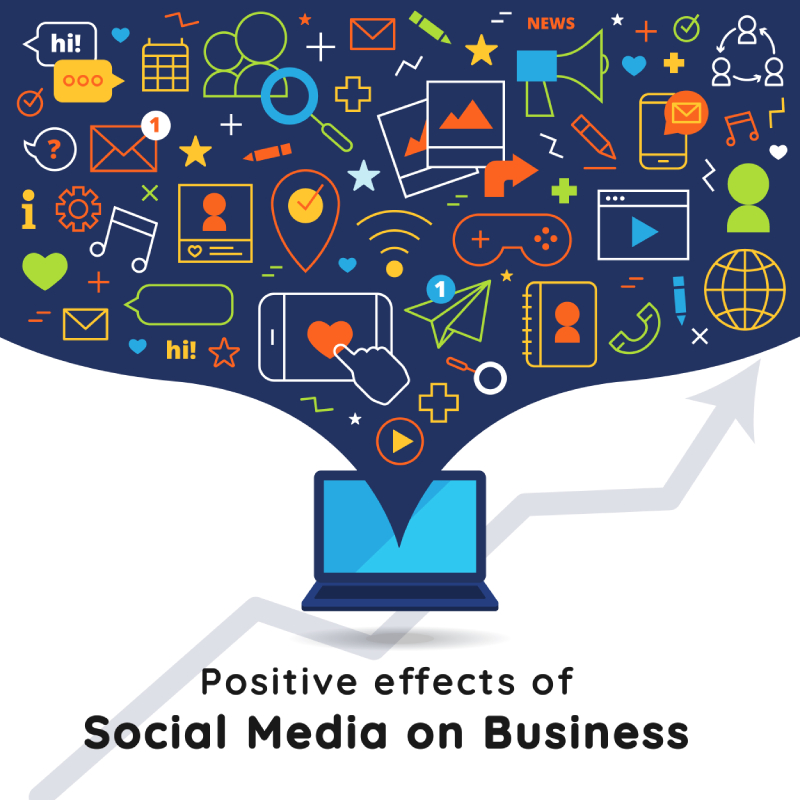 Social media is an impactful force in today's modern era of business. With a total of 4.2 Billion internet users, about 3.3 Billion of them use social media. There is massive scope for businesses to actively engage customers on these platforms and target the appropriate audience based on their interest. The positive effects of social media are widely studied by analysts, who conclude that all businesses should be leveraging the power of the platform.
"While it is a good tool for swaying loyalty, it's only the brand experience and brand love that creates the differentiation. But again, players putting out equal amounts of discounts would ultimately mean that the discounts didn't exist at all. In a scenario like this, the brand which would stand out would be the one offering a better experience," – Ashish Khazanchi managing partner, Enormous Brands in an interview with Afaqs.
There are significant advantages to leveraging social media, especially when brands want to scale their message. As more consumers are going mobile, it's important to reach out to them where they reside. Data from WARC's 12 key markets show that mobile ad spends will overtake that on TV in the years to come. This trend is moving faster towards this side of the table, owing to greater efficiencies and reach. Everyone's on social media. The impact of social media is clear and businesses around the world are taking advantage.
Increasing brand loyalty/affinity
As competition increases, social media and digital marketing are the best tools to reach out to a wider audience. It can help connect audiences to a core message and keep them engaged over time. This is also true for consumer brands that want to keep their core audience engaged. This has incredible results over time, with a stronger focus on ROI.
Zomato's recently clocked in over 700K+ Zomato Gold members, by leveraging social media to its maximum potential. It has a steady growth rate in orders and has become a part of the culture of the customers. The positive effects of social media on business are clear according to the leading food ordering giant.
"We enjoy having these interactions with users and restaurant partners. We want to maintain a jovial, fun kind of experience, whether it is to do with people's interactions with us on social media, on Zomato chat support or across any of the communication avenues we use. If we are planning to do billboards, we would want users driving past our billboard ad to stop and have a laugh or two." – Pramod Rao, VP, marketing, Zomato
While there are positive and negative effects of social media, it's important for companies to remain focused. This means that every message being put out on social media should be vetted for compliances and policies. Additionally, there should be a strategic focus on the messaging being crafted. In order to engage customers effectively, it's important to be authentic and mindful on the platform. The wrong message can also go viral on social media.
Reducing the cost of acquisition and scale
There is a stronger correlation between engagement and lower COA. This is because of the shifting of the consumer across the acquisition journey. Consumers are more engaged when the message is presented in a relatable manner, with a stronger focus on community development. When customers are a part of the community, there is a bond between what the company offers and what the customer needs. This aids in market research, sampling, testing out new batches and introducing new innovation.
With this, social media becomes a tool for reaching as wide of an audience possible, while keeping costs low on the acquisition. Research from Pew Centre suggests that upwards of 74% of Facebook users check the site daily and 51% of them check multiple times a day. There is an incredible demand for content generation, which is where brands can excel in and create leverageable content. The effects of social media on society as a whole are also urging us to become more collaborative and sharing on these platforms.
When it comes to scaling, few platforms can compare to social media. Depending on the type of customer you want to reach out to, there is a community present online. There are also consumer groups that are connected via specific interests, universities, affiliations and much more. There is a plethora of tools available to reach the modern customer.
Building digital brand equity
In today's modern era, the positive effects of social media have allowed brands to become digital leaders. They're innovating on how they're able to reach out to consumers, and they're engaging with them on a new level altogether. Building digital brand equity has become the next chapter in the long-standing game of brand and marketing.
With a plethora of tools available to modern marketers, there are a handful of unique approaches that they can take. They can either choose to engage with visual media or participate actively on a variety of metrics. They can also add paid social media to boost their messages. They can increase the impact of their message using a variety of tools that ultimately affect their brand equity.
Influencer marketing has also allowed brands to build digital equity using other's platforms. They're leveraging the acquired brand strength of an influencer to engage with a community of active followers. The positive effects of social media are allowing brands to compete digitally, in an increasingly fragmented market. They're also interacting with consumers at scale while building their digital brand presence on these platforms.
From a marketing standpoint, the goal of social media should always be to increase brand awareness and engagement. However, marketers that take a blended approach of authenticity and messaging are able to unlock the full positive effects of social media.
Hope you like this, share your views in the comment section and here read Benefits of SEO