25 Reasons Why Businesses Should Not Miss Out on Social Media Marketing!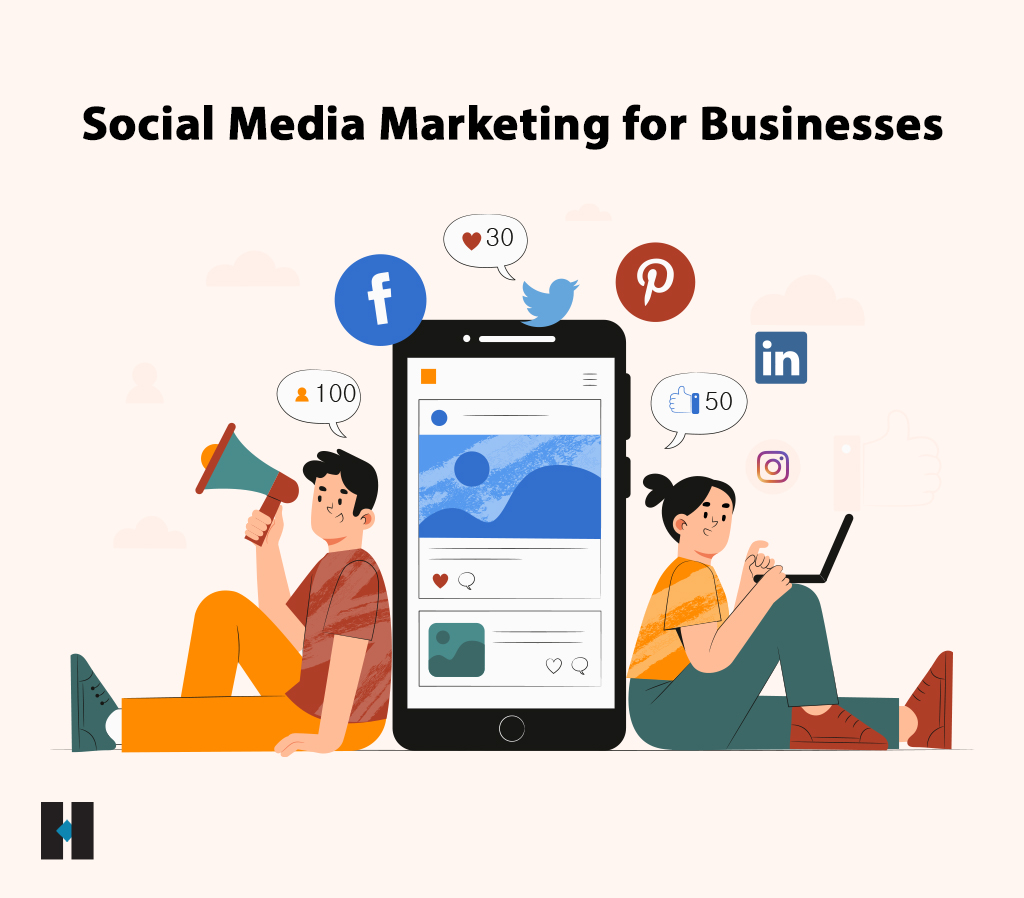 Social media marketing has become a crucial practice for modern businesses.
With the increasing social media platforms such as Instagram, Facebook, Twitter, Snapchat, and Pinterest (list don't have an end), social media marketing practices are rising too. Social media is a boon for businesses, and if you are not aware of that, you are indeed living under the rock.People usually ask, "How do I promote my business on social media?" or Is social media marketing important for business? So, here we answer it all by presenting a list of 25 good reasons that explain the power of social media quite well.
Social Media Transformation from Entertainment to Employment!
According to the Statista Research Department, 91.9% of people use social media for marketing purposes. In 2020-21, work from home culture became popular and the global pandemic caused huge chaos. Social media came out as the ideal entertainment as well as employment resource. Furthermore, goods & services are being outsold by using healthy social media marketing practices.
Social media is the best way to entertain others & make your business profitable altogether. Not all businesses are aware of the potential benefits of social media platforms, however, many people are achieving big milestones in the digital world using the same.
Social media has revamped the traditional business methodologies. We can see this with the reference where business cards are being replaced with digital identities. Additionally, startups are enjoying exposure by following extensive social media marketing expert plans to meet their desired goals.
We are enlisting 25 reasons why social media marketing can be your business fairy's boon. Take a glance below to know-how!
25 Reasons Why Social Media Marketing is Essential for Businesses
1. Omnipresence of Business
What is social media marketing?
How's it helpful for your business?
You must have heard these questions before.
Social media leverages business in the digital economy with business's ubiquitousness. Nowadays, customers are highly contemplative regarding brands, so the brand's omnipresence will surely make you a reliable choice for them. To boost sales and exposure, digital platforms can be your golden gateway. Social media is dominating the world, furthermore, being a part of it can be a game-changer for you.
2. Humanization with customers
It is crucial for brands to practice humanization to win customers' trust. The brand's personal approach accelerates success in the hyper-competitive world. In addition, customers tend to consider knowing about brands' credibility before purchasing any product or service from them. Social media can help you ace the humanization part with your target audience, easily.
3. Cost-effectiveness
There is no denial in the fact that social media is a low-cost social media marketing practice. Getting started with social media is easier than you think; you can create an account and sign up for free and reach out to your audience in no time. Even paid social media advertising is a good option that businesses can consider. By investing small amounts into social media, you can save up on time and effort.
4. Promotes the chances of collaboration
As Helen Keller says, "Alone we can do so little, together we can do so much." With social media, two brands can work together to promote their individual brands and boost their sales. Additionally, it encourages the possibility of getting wide exposure from a combined audience. The ultimate goal of any marketing practice is to connect with its target audience. It can turn out to be an excellent opportunity for brands to entertain a wide spectrum of customers.
5. Helps with honest customer feedback
Social media is the best mode of communication and networking. Using a diversified number of platforms, customers can be indirectly informed regarding brands and reflect the brand's strengths. Also, gaining honest customer feedback about the goods/services you offer, becomes simple. Brands must be well informed with what ideas do customers have for them. Social media helps brands to gauge customer feedback with honest interaction and start working to meet customers' needs.
6. Improves credibility
The online presence of a business makes it look authentic and that's where most brands fall short. A channel for personal-level interaction improves the sense of trust among customers. Nowadays, customers consider researching a brand before making their purchase. Furthermore, social media is the main doorway to reaching out to varied brands. Social media builds customer loyalty for brands through varied channels and creative approaches.
7. Ease of personalization
Getting to know your customer personally is a prime benefit that social media marketing lets you enjoy. With personalization, not only are you marketing your brand but also building your potential customer base. Due to the wide choices of different customers, there are no hard and fast rules for marketing. It is the same for both B2B and B2C businesses. The optimal social media optimization strategy plays a vital role in making the business a credible choice.
8. Accelerates business's growth
In the covid scenario, brands are struggling to keep a hold of their customers due to lockdown imposed. Using varied social media platforms, you can reach out to customers and keep your business moving. A new normal is coming into force, but still, people are hesitant to walk out and get products and services. With the digital approach, it becomes easier than ever before to continue business without fear of infectivity.
9. Improves the customers' loyalty
Who doesn't wish to have a loyal set of customers? Well, everyone does, but finding them can be a daunting task. Social media can help you get through this too. Digital portals like Twitter, Instagram, Facebook, LinkedIn, and others make it easy for customers to connect with brands.
10. Builds brand recognition
Raising brand awareness is an important practice for businesses. Social media is no joke when it comes to raising brand awareness in the market and establishing brand recognition. Keeping with digital world updates and being consistent can help you establish yourself digitally. You can try out different tools for social media marketing and witness a significant change in your business.
11. Increases conversions
The marketing plan you prepare must assist in potential conversion. Audience engagement can nurture business & customer relationships that eventually build conversions too. When you are clear with social media practices, there is a higher chance of getting your desired goals completed.
12. Gives market's insight
A valuable operation that social media does is to assist brands in gaining market insights. It is easier to monitor your loopholes when your end-user informs you correctly about their experiences. Utilizing appropriate social media analytical tools, one can introspect and analyze the needful thing for futuristic social media marketing plans.
13. Assists with organic ranking on google
The social media presence is outdoing the basic website optimization. It becomes easier for websites to enjoy organic ranking on Google with apt use of social media marketing. Nowadays, organic ranking on Google has a major role to play than paid ads for website traffic. Top ranking website is one of the SEO attributes where e-commerce needs to pay closer heed. Sharing brand updates on social media platforms is a top-notch way to make the brand stable, reliable and, top-choice of customers.
14. Makes you lead the industry
Social media is the next big thing and using it right can make you the next industry leader. The transformative effect of social media is observed as a big change in the digital world. From breaking stereotypes to acknowledging small businesses, social media is doing it all for itself. It is a great opportunity to leverage your brand by connecting on an interpersonal level and come as a next-generation leader.
15. Increases website traffic
To have a large number of potential customers, increasing website traffic is important. The more people see your site, the stronger influence you have on the market. Optimizing your social media profile by using the relevant content can open doors to big opportunities for you.
16. Easier engagement with Influencers
Online influencers have become a big thing in the digital world, today. Influencers are classified as specified industry experts, so collaboration with influencers can give a boost to your business. Reaching out to social media influencers is easy. Thanks to online connectivity such as directly sliding into DM or contacting through their business profiles. Easier engagement with influencers wouldn't be possible without social media, it is a boon for sure.
17. Easy promotion of products/services
Social media platforms help to gauge your target audience with pinpoint precision. The implementation of the right social media marketing tips does the apt filtration of your audience. Varying on demographics such as location, age, behavior, likes, and dislikes, you can promote products/ services effortlessly. Thus, digital marketing practices promote products and services in the best way possible.
18. Wide business' exposure
Having a target audience is great but expanding and reaching out to similar audiences as yours is important. Your business can entertain a wide audience by outreaching them via social media trends, ads, and other tools. Hiring a social media expert can help your business in unlimited ways. To revel in the wonders of social media, Hire tecHindustan – the best web development company in Chandigarh Mohali!
19. Helps with content marketing
The need for quality content is ubiquitous and experts have started understanding this fact quite well now. When you constantly keep up with the supply and demand of useful information, social media can make you shine in the constellation of websites. Content marketing is the key for businesses to stay top of the mind of customers, so you can get started with it too.
20. Get to know customers better
As discussed above in ease of personalization, having a personal approach to customers is highly important and profitable. To create that personal approach, proper analytics is required and social media does the job for you. Without having to be answered, offering what customers want is the new expectation that modern businesses need to meet.
21. Customers get access to unfiltered information
When counting on the benefits of social media for brands, count this one twice. Social media has created transparency and accountability for customers and brands both. You can share information with your end-users without having to filter it. The elimination of filters enables your end-users to perceive what you want them to.
22. Keeps you updated
The aim is to keep you updated with social media trends and tastes. Having omnipresence on the web gives two-way freedom to both brands and customers. You can ask your audience about new trends and get new updates every now and then from suggestions and social media hashtags.
23. Networking is the key
Social signaling is defined as human interaction and engagement with social media posts. These social signals guide search engines about the relevance of your content for users. Henceforth, the visibility of your website and brand is increased, which is a profitable deal for you.
24. Lets you experiment
Before the introduction of social media, brands were bound to maintain a formal image which was a barrier between customers and business. Social media has bashed all those barriers and has also validated businesses to be experimental. Experimental marketing is helpful for capturing customers' attention. The upshot of social media is allowing brands to influence and bring a change in the industry.
25. It's FREE!!!
Last but definitely not least, social media channels for marketing are free of cost. If you want to market your local business, social media-free tools can come in handy. To elevate yourself, use social media paid tools that have other varied benefits. It's easy to get started with marketing without spending a penny for it. Thus, using social media is indeed a great practice for traditional and modern businesses to grow.
The final words The social media practices by professionals can surely make a big difference by offering it the recognition that it deserves. Hire tecHindustan for acing the social media game with the benefits of SEO and become an unprecedented leader of your industry.