DragGAN: Photoshop is No Longer Needed; This Website is Amazing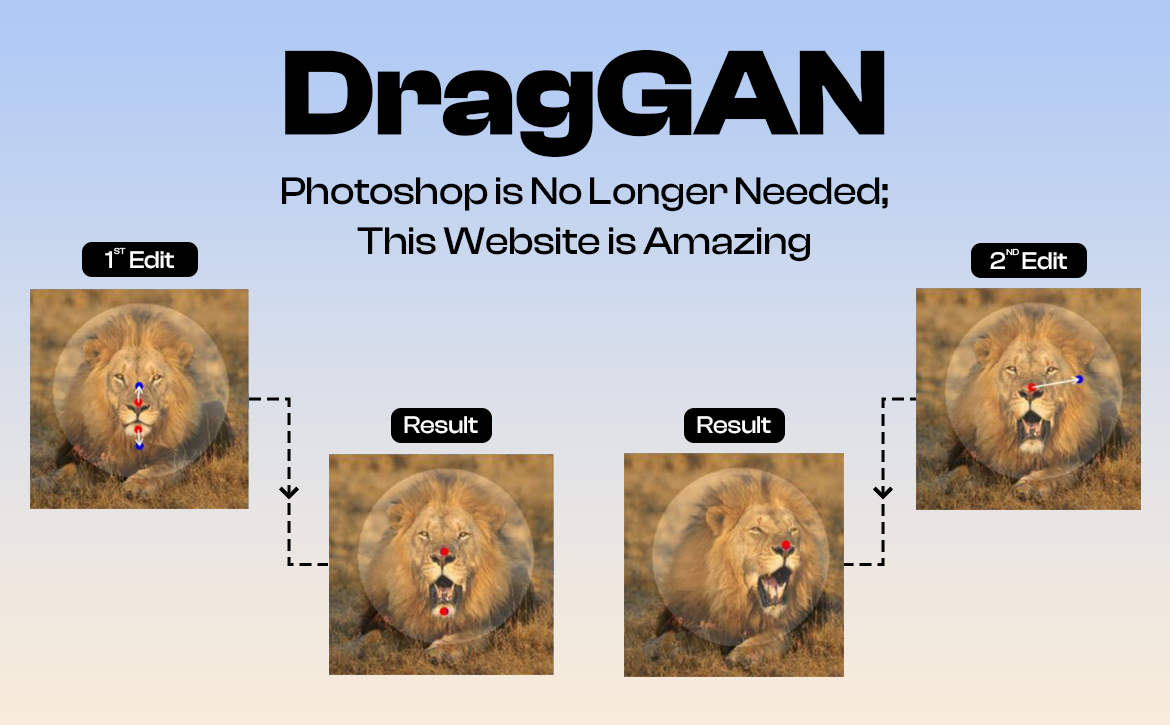 With jaw-dropping AI tools changing how humans work, it's evident that AI has started evolving and how! While we are saying this, there probably might be a couple of AI tools in the making. But for now, it's the imagery world that is about to get revolutionized.
What if we say that now image editing is an easy-peasy job for everyone? No need to go through learning a tough editing tool, when you can edit images in the blink of an eye, or rather we should say by simply dragging two points. Well, say hello to DragGAN. This is the new image-altering AI tool created by Max Planck Institute for Computer Science along with Google, the Saarbrücken Research Centre for Visual Computing, and the MIT CSAIL.
How Does DragGAN AI Work?
Well, as simple as it could be, you define two points on the image and simply drag any of the points to get the desired result. And trust us when we say the image looks realistic without damaging the pixels. Have a look at the examples DragGAN has displayed in their report.
All the alterations in the images look scarily realistic. It's an important development in the image editing world through AI. What else you can do? As per the research paper, you can change the shape, pose, expression and layout of the generated objects through interactive point-based manipulation.
How you can use DragGAN AI?
Since the website is still a work in progress-phase, here are a few simple steps that will help you get access to this buzz-generating AI, whenever it gets live.
Drop in at the DragGAN website.
Choose the desired image that you want to edit and upload it on the site.
Choose the desired two spots you want to alter in the image.
Now Drag one of the points in the direction you want the change.
DragGAN will automatically correct the image as soon as you release the point.
If not satisfied, keep on dragging the point till the time you are okay with the result.
And lastly, once finished with editing, simply save the image.
Doesn't seem tough right? No more going through a rigorous process of learning umpteen features of editing tools. DragGAN seems to have eased the process and made editing look fun.
What can you do with DragGAN AI?
Well, from changing various angles of objects to removing unwanted things from images and increasing or decreasing the size of objects and so much more. You need to personally experience the joy of editing photos in DragGAN. The website is still in the development phase, but the research paper looks promising for sure!
Resources